Marketing maybe the realm of marketing executives – but the ultimate decisions in that field are often taken by the general management. So it's only logical that marketing executives who want to make a difference evolve to business leaders. This is exactly what happened to me.
Recently Spencer Stuart surveyed 500 marketing executives across all industries to learn where their career paths led to: marketing or general management. Overall, the survey revealed that 70 percent of respondents have long-term aspirations of becoming a general manager or chief executive officer whereas only 30 percent want to be a chief marketing officer.
This made me think about my own career path. I made my way mostly in the logistics industry – an industry that is not marketing centric at all, with no defined route for marketers. Still, my positions have been stops on the path to my current business leader role. During this journey I often encountered other managers second-guessing marketing. Eventually I figured it was better if I were the one second-guessing and that I show how marketing can make for a better general manager.
Fighting Prejudices and Perceptions
When I wanted to make the move I realized that one big obstacle was the perception that marketers lack business skills. So I decided to build up credibility by starting my own business. During my time as an entrepreneur I was obviously involved in all aspects of general management and I heavily focussed on winning business in the B2B and B2C space.
After joining the management team of one of my customers as Vice President, I found myself back in the corporate life. Then I faced a second challenge: the idea of marketers lacking financial acumen. Despite the fact that I made serious efforts to collaborate with finance it took some time plus an executive education program at the Wharton Business School to change perceptions at work.
The Art of Understanding People
The ability to transition from marketing to general management was less about individual competencies and more about how companies defined different roles. By definition marketers should have a very good understanding of customers and their needs. Ultimately, knowing the customers was critical to my success in marketing – and is the key to success in business management today.
I primarily worked in large, global logistics environments and had to be an integrator to be successful. I pulled together the different functions which was a great training ground to be a business leader.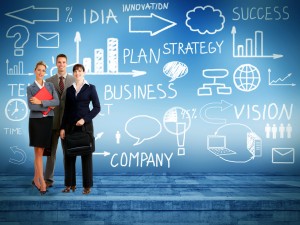 Crossing Functions and Cultures
Marketing is not a highly specialized role in the logistics sector; hence I mastered to be a generalist. On the other side, this industry is an extremely global one, requiring very special know-how to articulate and implement strategy that can be executed worldwide and for virtually countless products and services. I was privileged to work cross-functional and cross-cultural at a relatively young age.
Joining DHL, the global logistics leader, through Air Express International (at the time the largest US air freight company and a significant acquisition of DHL), I became a member of the integration team – in addition to my regular job as the marketing manager Germany. There I worked closely with human resources, finance, operations as well as marketing, sales and communication on several marketing and integration projects.
Assignments Out of the Ordinary
I gathered very different marketing and management experience during my time with Panalpina, a leading network in Europe. Building up the global account management structures as well as the marketing organization, undertaking a major re-positioning and branding project as well as implementing a worldwide change management program (to support the IPO on the Swiss stock exchange) were unique assignments, again requiring close collaboration with all levels of the company.
Before I moved into my current business leader role at Kuehne + Nagel, I joined Agility – a company from an emerging market in the Middle East which had the vision to become a new global leader in the industry. I experienced marketing and management in a very different cultural context as well as a very professional business approach, but somewhat out of the normal industries' way.
Looking for the Bigger Picture
My drivers to make the change were my genuine curiosity, my passion for commercialization and the desire to work with people from all over the globe. I had no specific criteria for moving from one position to another but I was always curious about new and broader challenges. Eventually I recognized that broader challenges require the ability to have a greater influence over the organization.
At last I arrived where I had always wanted to be. As head of hotel & cruise logistics at Kuehne + Nagel management I am taking the decisions I've always wanted to take. It was a long and exciting way from marketing: But ­in the end marketing and general management became one and the same for me.