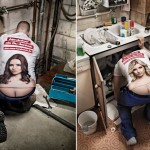 "After receiving numerous customer complaints, a German plumbing firm bought their plumbers a new t-shirt, designed to make their employees more attractive to the customers.", this was the comment I received from a friend about this special version of workware. Originally the campaign was targeted towards teenager, trying to create a Western union agent buzz for craft apprenticeships.
However- defintely attention getting and smart.
Congratulations kommazumpunkt !